World Record Set by PSY with 'Gentleman' Attracting 200 Million Views 'the king of global pop culture'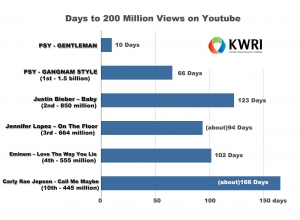 SEOUL--(Korea Newswire) April 22, 2013 -- International singer PSY has set a new world record, as his music video 'Gentleman' reached the 200 million mark on April 22.
...중략...
"The fact that PSY has attracted 200 million views in only 10 days with 'Gentleman ', the shortest period ever, is a beginning of a historic milestone," says Han, Seung-bum, the president of The Korean Wave Research Institute (KWRI). "We are seeing unbelievable amount of increase in reaction videos, parody videos, and interpretation videos in response to 'Gentleman' on YouTube. We will see a new milestone in the future."
"The era of 'PSY's World' has now begun. He will remain as the king of global pop culture for at least 10 years." stated president Han.
Korean Wave Research Institute(KWRI,
www.haanryu.com
)
Korean Wave, the front runner of Korean culture reaching out to the world. Korean Wave that has the foundation of excellence and mobility of Korean culture has captivated the people on the world to add its power on daily basis has become the representative culture icon of Korea. Korean Wave Research Institute (KWRI) is committed to undertake aggressive effort to expand the power of Korean Wave for entire world by undertaking the research on Korean Wave, survey of influence and analysis of demand, presentation of advancement direction for steady advancement and expansion of power for Korean Wave. KWRI will place its best effort for delivering graceful, friendly and powerful Korean culture and unlimited advancement of Korean Wave through profound understanding and research of Korean Wave.
News Source: KWRI-Korean Wave Research Institute
원문 더보기